How do you take often uncomfortable topics and develop messages that connect with potential patients looking for first-rate care? What do patients really want from their healthcare experience? These are just a couple of the questions the Lenz team asked when developing Georgia Urology's "Confidence" campaign.
The "Confidence" campaign is designed to articulate the wide array of benefits that patients receive by partnering with Georgia Urology for their healthcare. And it recognizes that urology comes with particular sensitivities and considerations.
"The service offerings provided by Georgia Urology are critical, sometimes even life-saving," said Accounts Supervisor Christine Mahin, who leads the Georgia Urology account for Lenz. "But we also knew they involved medical issues many people feel embarrassed and ashamed to discuss or seek help for. So, we asked ourselves: What does Georgia Urology offer patients that other practices do not?"
Following extensive research and after receiving important insights from the leadership at Georgia Urology, the Lenz team established a campaign theme that embodies Georgia Urology's value to patients: confidence.
The concept was first articulated in a 60-second radio ad written by Lenz VP of Marketing, Mike Killeen:
"Confidence.
It seems to be the missing ingredient in healthcare today.
We know more about the human body than ever before, benefit from cutting-edge research, and have access to medical technology that previous generations would have never dreamed of.
Yet, when it comes time to decide what to do for you and your family's health, the choices can be overwhelming.
With something so important, you deserve a partner that you believe in. That's called confidence. And it's exactly what you get with Georgia Urology."
The concept of confidence speaks to how Georgia Urology's patients feel when interacting with their care team, and when living their everyday lives. They are confident that they have chosen the right practice to care for them, that they are receiving the best, most appropriate treatments for their condition, and that they can confide in their care provider.
Similarly, Georgia Urology helps its patients live life freely and confidently, without worrying about the potential social impacts of their urological condition.
Lenz Creative Director Ben Barnes described the nuances behind developing visuals to fit this creative concept. "While every ad may not say 'confidence' directly, it's the whole idea behind it that really counts. The idea we wanted to convey is that you can talk to your urologist without fear at Georgia Urology."
PRINT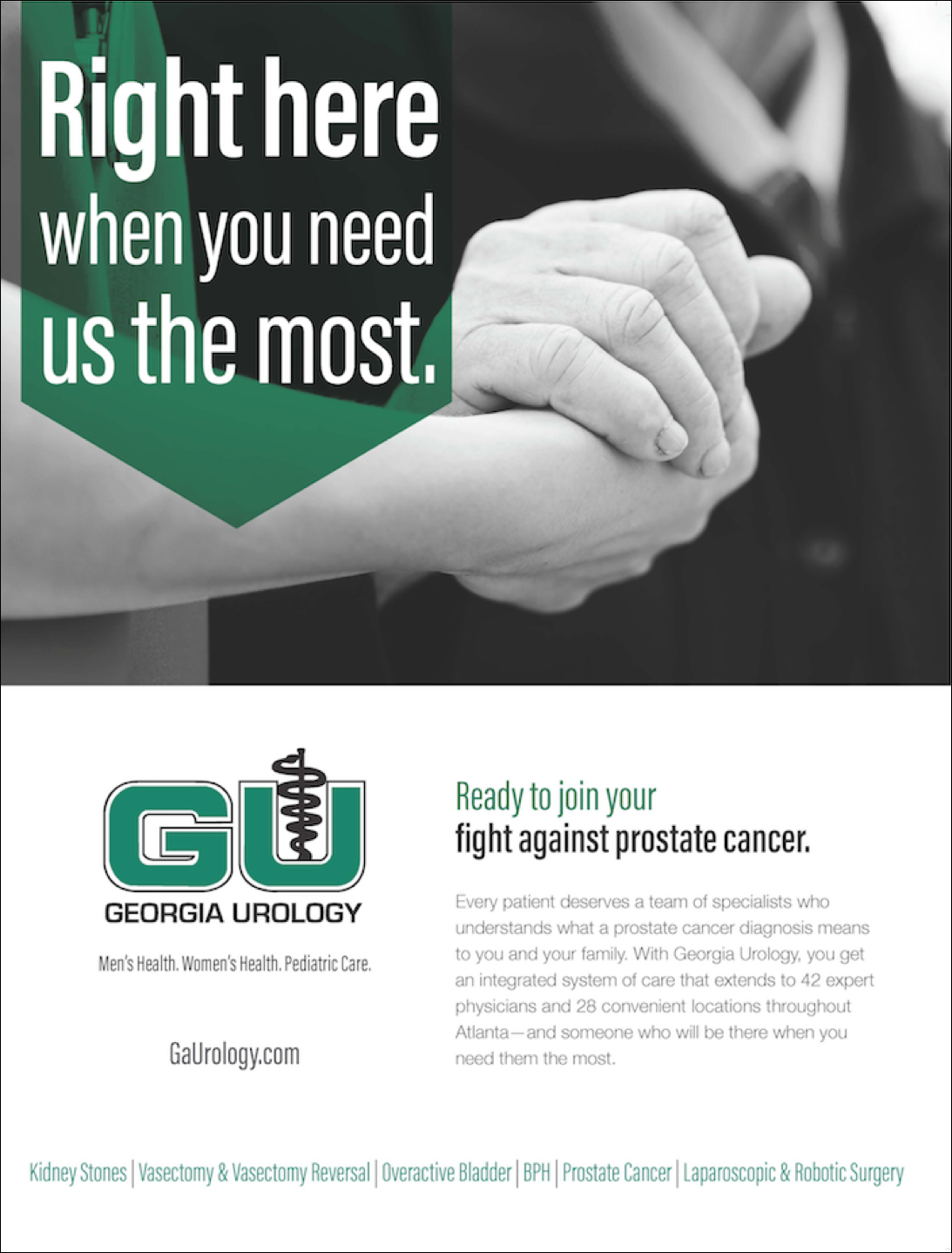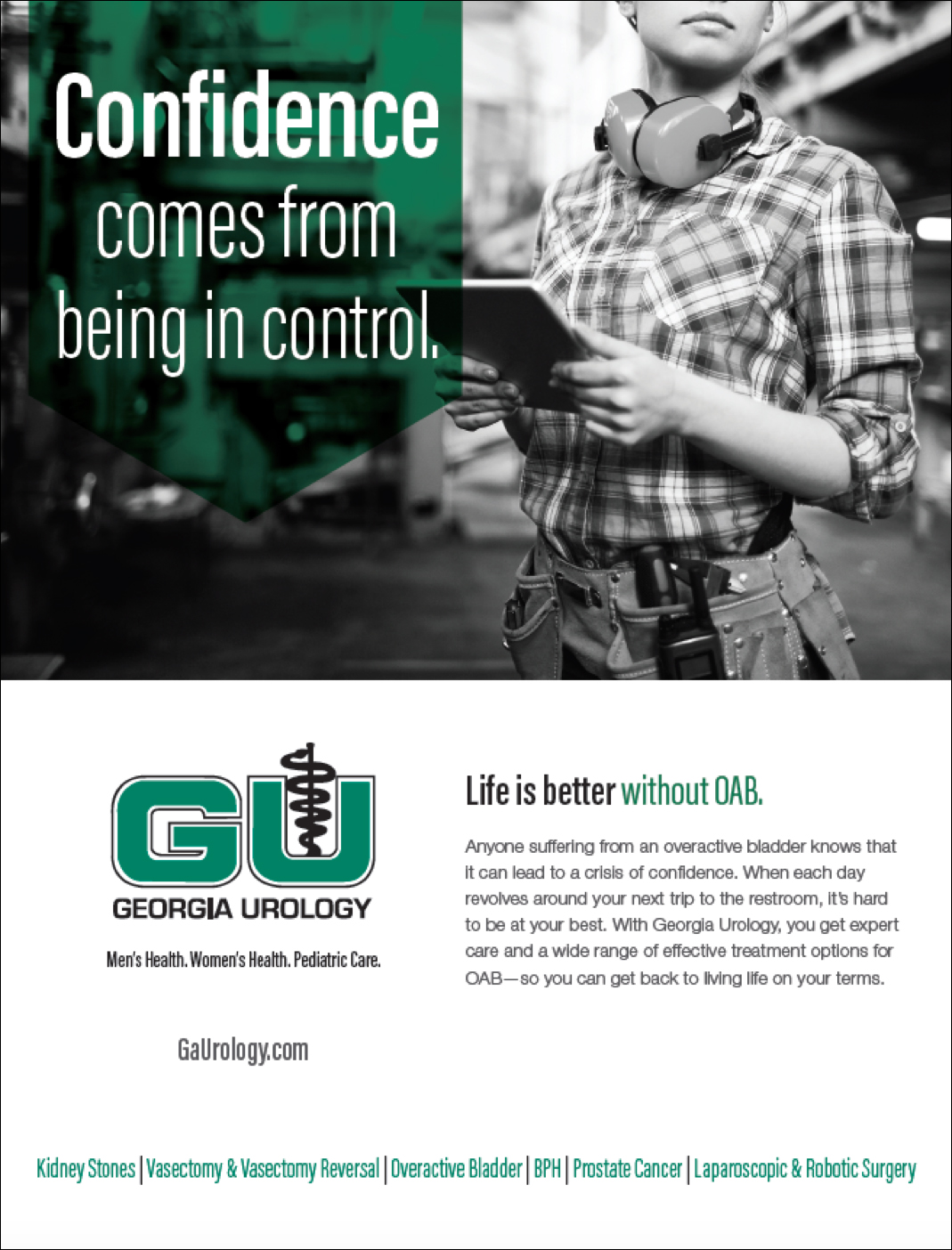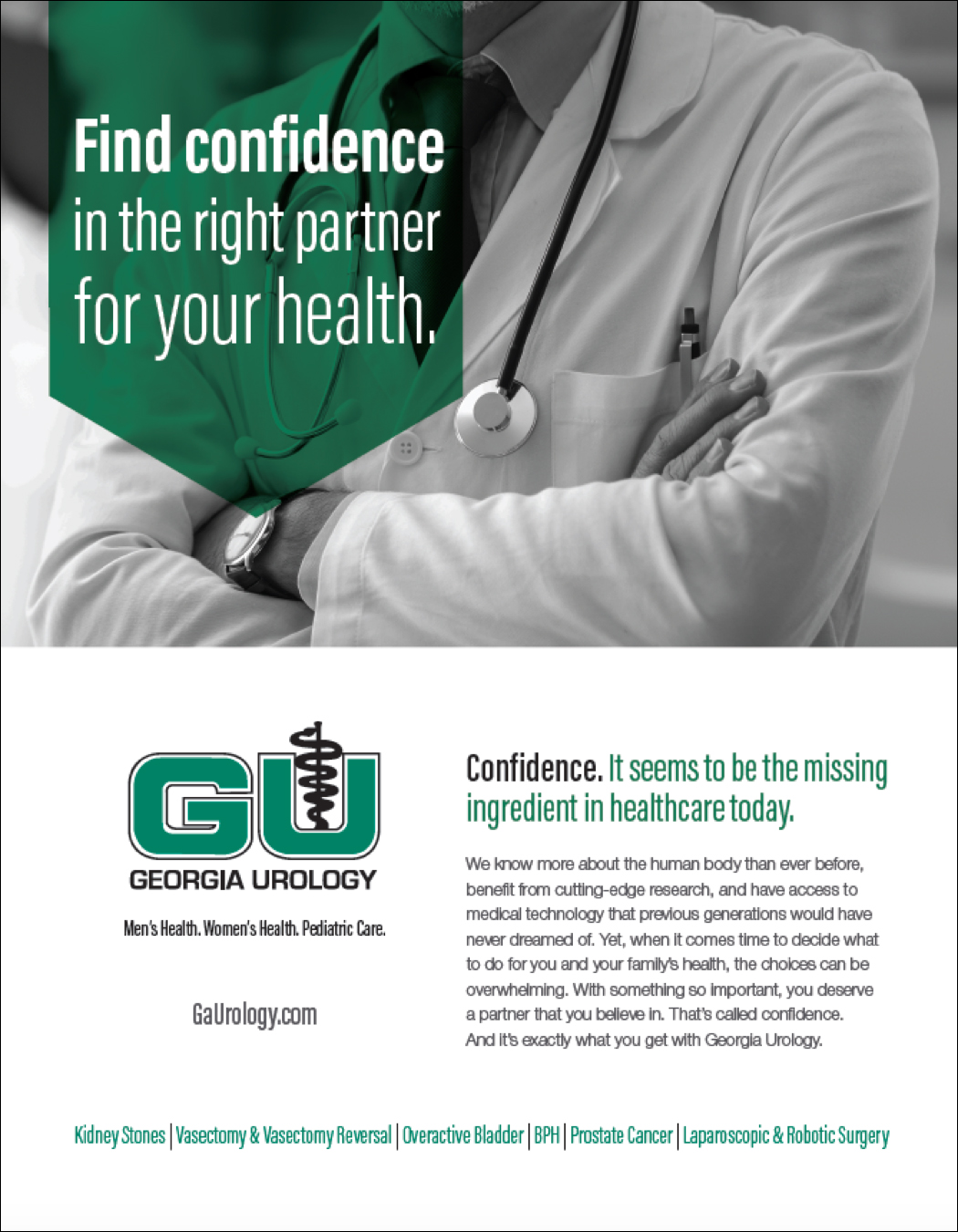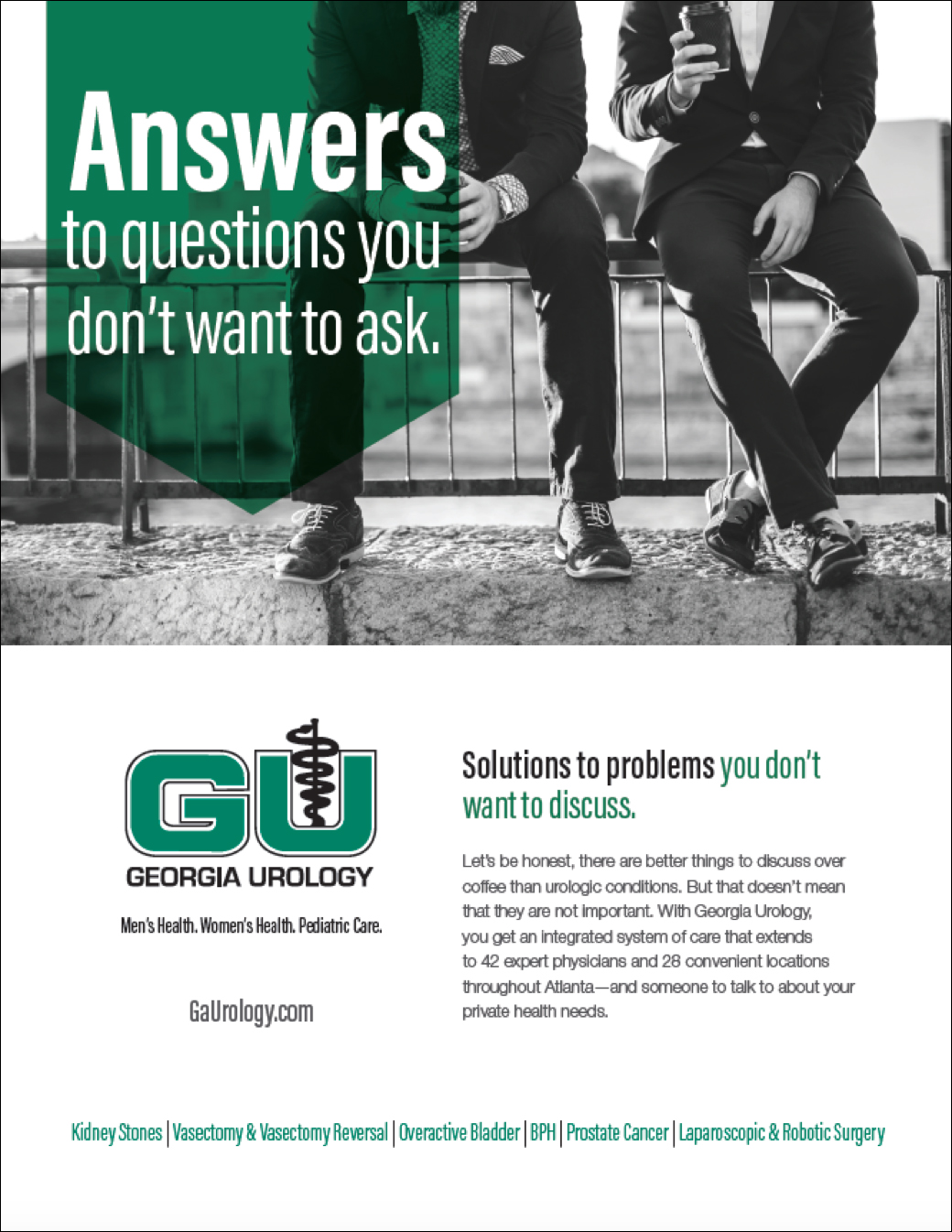 OUT OF HOME 



 The Lenz design team relied heavily on both overt and subtle design elements to effectively bring the "Confidence" concept to life in a visual way.
The black-and-white imagery helped address the often serious, sensitive nature of the conditions Georgia Urology treats. Images were intentionally cropped to omit the faces of the primary subjects, making it easier for consumers to insert themselves into the scenarios displayed. Everyday situations were often conveyed in the artwork to make the messaging relatable. The green arrow framing the primary text intentionally elicits a shield, bringing associations of protection and guardianship to Georgia Urology's name.
Finally, the Lenz Interactive team worked hand-in-hand with the design team to update the Georgia Urology website so that it harmonized with the campaign aesthetic. Lenz wanted to make sure the campaign was fully integrated: from billboards to the website. We strove visually to assure those who searched for the Georgia Urology brand online knew they were at the right place when they reached the homepage.
WEBSITE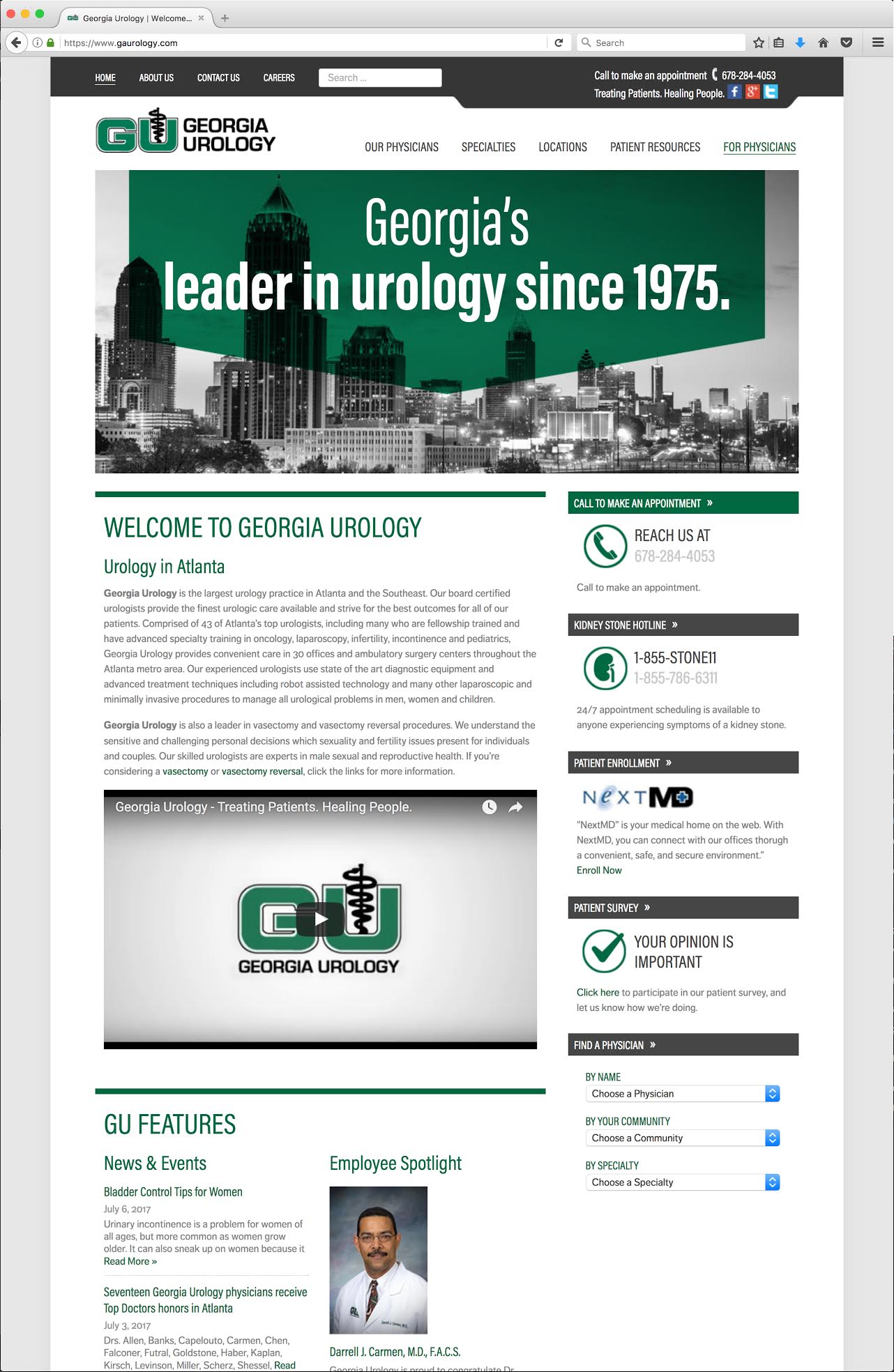 The Georgia Urology "Confidence" campaign is being extended throughout print, broadcast, and digital mediums in the Metro Atlanta market. The Lenz team is excited to continue to assist in developing Georgia Urology's brand and promoting the confidence they provide their patients every day.
At Lenz, we love working with our clients to develop strategic and creative concepts to help them meet their goals. To learn more about our process, our team, and how we can help your business, click here.