Mark your calendar! The 2018 Atlanta Science Festival will be held March 9 – 24 and will feature more than 100 events across metro Atlanta, plus one big party: the Exploration Expo at Piedmont Park on March 24! Lenz is the marketing agency of record for the festival, and a Gold level sponsor, providing marketing strategy and consultation, advertising, public relations, graphic design, and social media services. It's all done to promote Atlanta's annual celebration of technology and science.
Here's the event booklet, designed by Lenz and  packed with the festival schedule, event details, and more!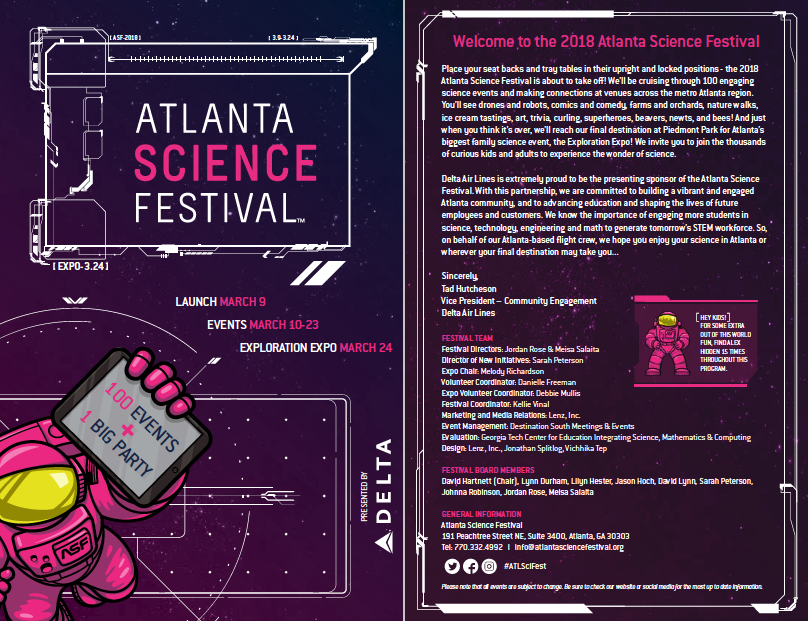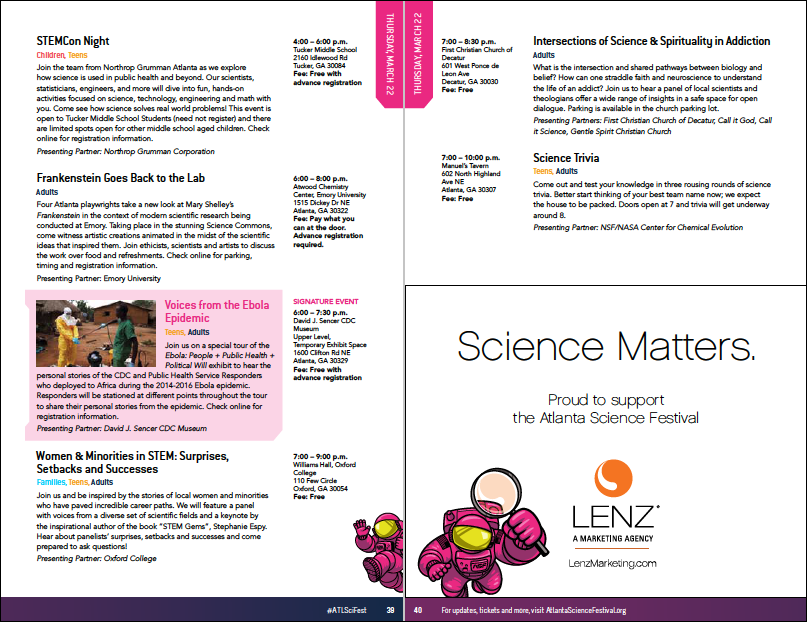 Just in time for this year's festival, Lenz also gave Atlanta Science Festival's website a major upgrade! Check out the new design below!

Lenz recently introduced the festival mascot, A.L.E.X. who joined us at the 2018 Atlanta Science Festival kick-off party, hosted at the Delta Flight Museum. We loved seeing our beloved, pink astronaut come to life and interact with event attendees. Here are some pics from the occasion.
[av_horizontal_gallery ids='4075,4076,4077,4078,4079,4080,4081,4082,4083,4084′ height='25' size='large' links='active' lightbox_text=" link_dest=" gap='large' active='enlarge' initial=" control_layout='av-control-default' id=" av_uid='av-2mpxrq']
The Atlanta Science Festival welcomes people of all ages to explore the science and technology in Atlanta and to see how science is connected to all parts of their lives. Scientists and educators from museums, local schools, universities, and companies will uncover mysteries and explain discoveries in a variety of hands-on activities, facility tours, stimulating presentations, and riveting performances to expand the community of science enthusiasts and inspire a new generation of curious thinkers. Over the course of the festival, 100+ activities and events will be held that are suited for young children to adults. To close off the celebration, the Atlanta Science Festival will host the Exploration Expo in Piedmont Park, Atlanta's biggest interactive science event that is free and open to the public on March 24th.
To learn more, visit the Atlanta Science Festival's website!