Lenz is proud to host many interns that leave behind legacies of hard work, creative ideas, and lasting relationships. It should come as no surprise that our 2017 summer intern Allison Miller would combine her social media savvy and natural design talent to leave us with an especially unique legacy: a Snapchat geofilter.
For the 158 million people who use Snapchat every day, one of the most popular features are the geofilters—creative overlays based on location and time that appear around the user's picture or video. During Allison's summer internship with Lenz, she noticed the area around the Lenz office in downtown Decatur was lacking a geofilter option that truly expressed the colorful and creative atmosphere of the community. So, she decided to do something about it by designing and submitting her own geofilter for the downtown Decatur Square. As a part of the application process, Allison detailed the rich, cultural history of the Decatur area as her creative inspiration.
Read what she had to say: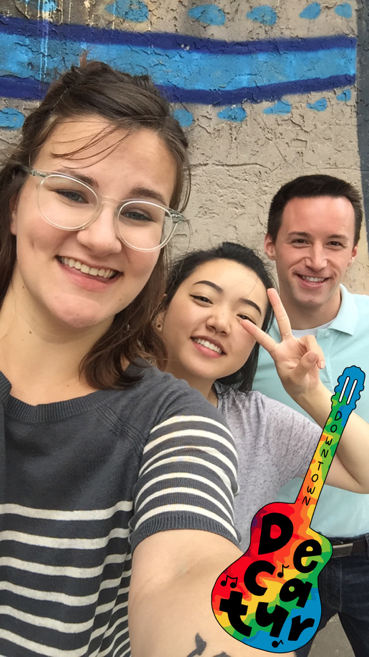 "This summer I've been spending a lot of time in Decatur interning at a marketing agency. I've learned that the agency Lenz has had quite a positive impact on the area."
"As an avid Snapchat user, I noticed that Decatur had several community geofilters, but none of them really represented the rich culture contained here. Therefore, I decided to use my graphic design skills to create my own. I chose the guitar because Decatur is rich with music history, having been the place where Indigo Girls, John Mayer, Shawn Mullins, and Sugarland got their starts. I just hope that I can continue my boss' dream of making Decatur the best it can be, and I feel that Snapchat can help."
Be on the lookout for this Allison's Snapchat geofilter next time you're taking a selfie on the Decatur Square!