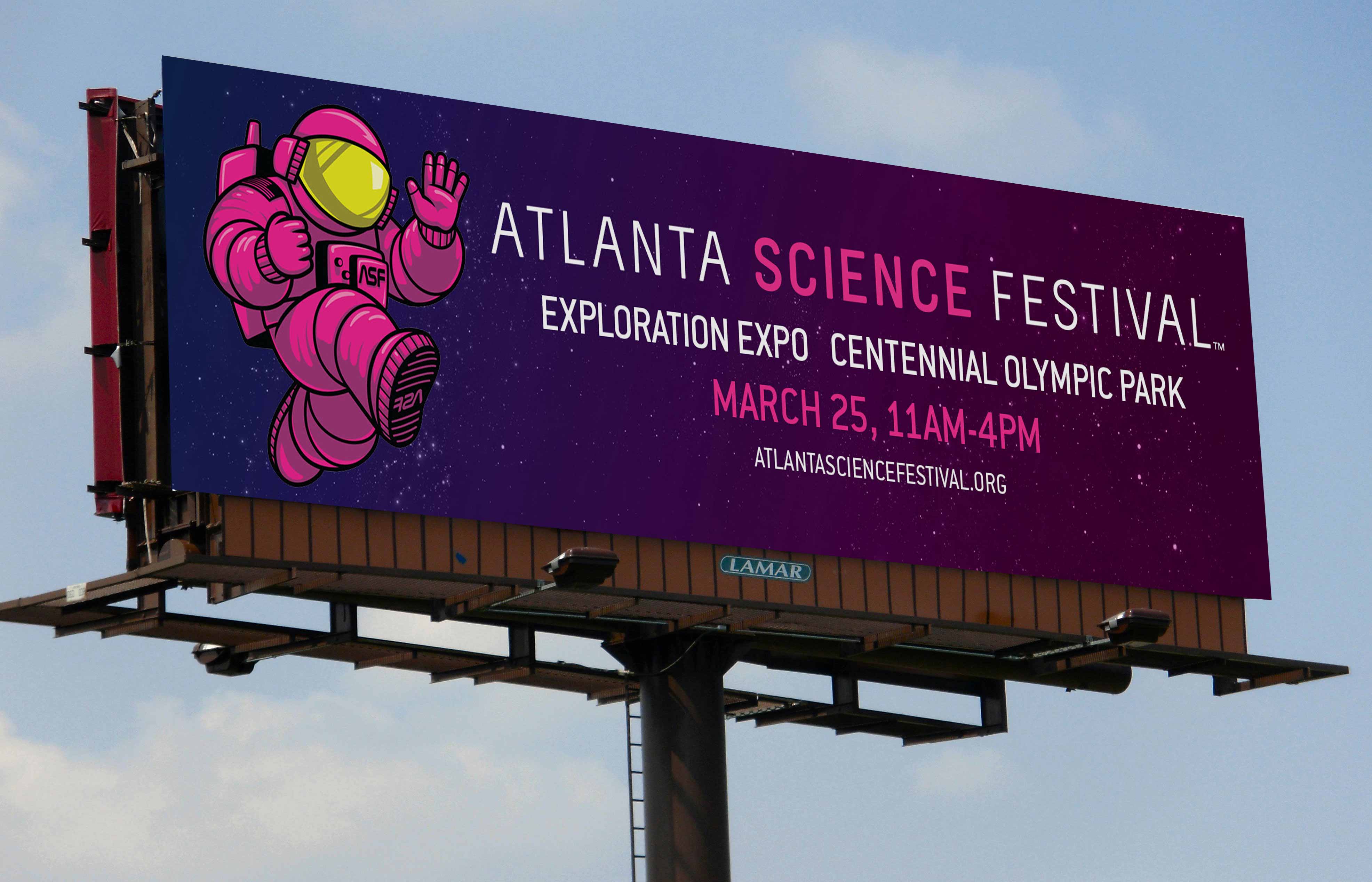 Founded in 2014, the Atlanta Science Festival (ASF) is an annual two-week celebration of the Atlanta science community consisting of more than 100 events and a grand finale: The Exploration Expo. With experiences such as cooking and eating bugs, discovering the science behind beer brewing, witnessing wildlife through Atlanta's forests, and stopping a zombie outbreak, it's no wonder the festival has seen remarkable success in a few short years. There is something for everyone, and no one walks away from the festival disappointed at its offerings.
With its  growing popularity, the Atlanta Science Festival needed a playful, memorable brand to help solidify its place among Atlanta's busy calendar of events and reach even more curious people across the region. ASF came to Lenz for help with this task, and thus ALEX was born into the universe.
ALEX (Atlanta's Lead EXplorer) is ASF's mascot: a spunky astronaut sporting the branded ASF pink and ready to take ATLiens on a two-week science-filled adventure. The goal with this mascot's development was to instill a sense of exploration and wonder in the 2017 festival while also solidifying ASF's brand within the Atlanta market. Knowing that consumers show affinity towards brands that extend their essence beyond a logo, and into a carefully crafted persona, ALEX became an integral part of  the festival's marketing initiatives.
ALEX appeared on MARTA buses, billboards, magazines, social channels, promotional videos, and festival literature, bringing the festival under one unified personification. Festival-goers even took ownership of ALEX through a mascot naming contest on social media. Hundreds of entries were cast, and a panel was formed to chose the winning submission. After careful consideration, ALEX was selected as the mascot's name.
The 2017 festival was a hit, reaching over 41,000 people of all ages. At the Exploration Expo alone, 19,000 people came into contact with ALEX through festival signage, programs, and exhibits at Centennial Olympic Park. With over 100 events, 70 venues, 14,500 followers on social media channels, and 200 million media impressions, it is safe to say that ALEX made a grand debut.