When Two Atlanta-Based ER Specialists Launched a Startup to Address the COVID-19 Testing Crisis, Lenz Leapt In to Help
Market-Leading Viral Solutions Brings Drive-Through, No-Appointment COVID-19 Testing and Vaccinations to All
In the summer of 2020, John Lenz, VP of Lenz, Inc. was feeling unwell with symptoms that didn't point to any obvious diagnosis. When a friend suggested he get tested for COVID-19, he found a nearby drive-up testing site being discussed by neighbors on Nextdoor. He read that no appointment was required, so he quickly headed out the door.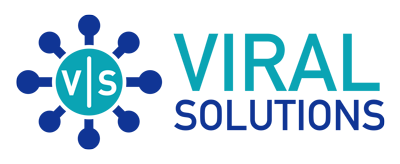 When he arrived at Viral Solutions outside a North Decatur church, he found a homemade sign and a first-class operation. He was evaluated by an on-site doctor, given the gold-standard RT-PCR test, and then went on his way with no copay and no delay. (The test results came back 24 hours later as negative and he's doing fine.)
As he was about to drive out of the testing site, Lenz handed his business card to a man who turned out to be Ron Sanders, Jr., PA-C, the co-founder and president of Viral Solutions. "I just experienced next-level customer service," he told Sanders. "I want to work with you. We can help you grow. Please call me." A few days later, Sanders did.
ER Specialists Respond to a Public Health Emergency
Benjamin Lefkove, co-founder and CEO of Viral Solutions, wanted to visit his sister-in-law, who had just had a baby. As an ER physician who worked closely with Sanders in a top Atlanta hospital emergency center, Lefkove understood the importance of getting tested before the trip. Yet even as a healthcare professional, Lefkove struggled to find and schedule a suitable test.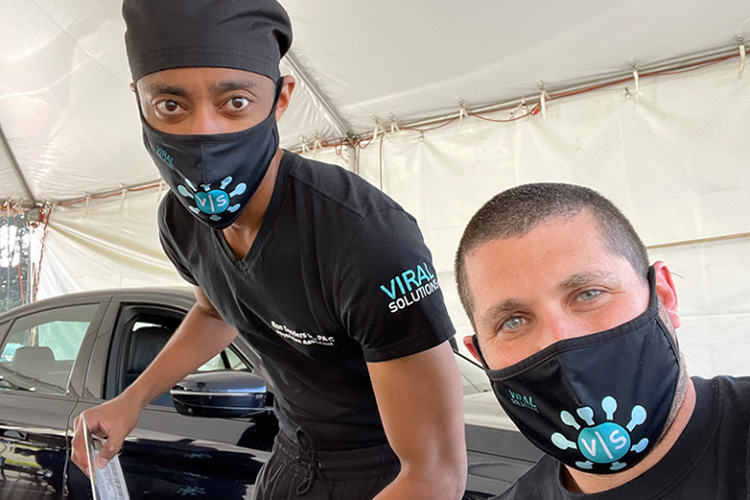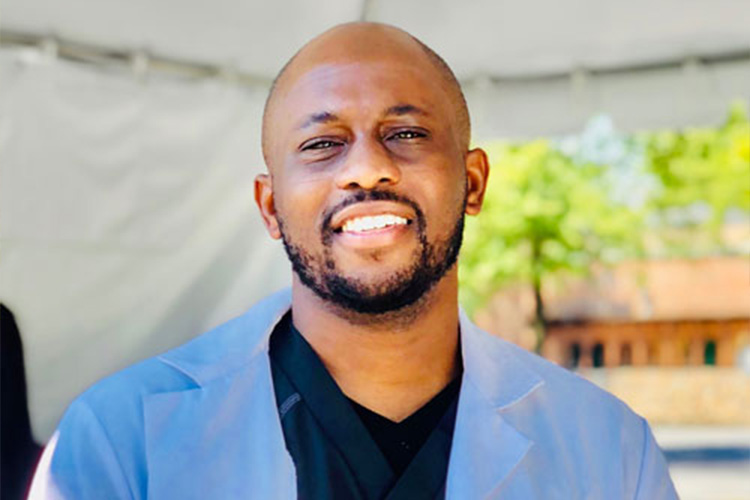 Lefkove and Sanders knew that widespread, quick, and easy access to the best available COVID-19 testing was critical to ending the pandemic. Without it, asymptomatic and presymptomatic carriers would continue to spread the virus in the community. Inadequate testing capacity was hindering Atlanta's response to the worst public health crisis in a century.
As emergency room specialists, Lefkove and Sanders were well-positioned to provide a solution.
World-Class Operations Born From Shared Emergency Department Experience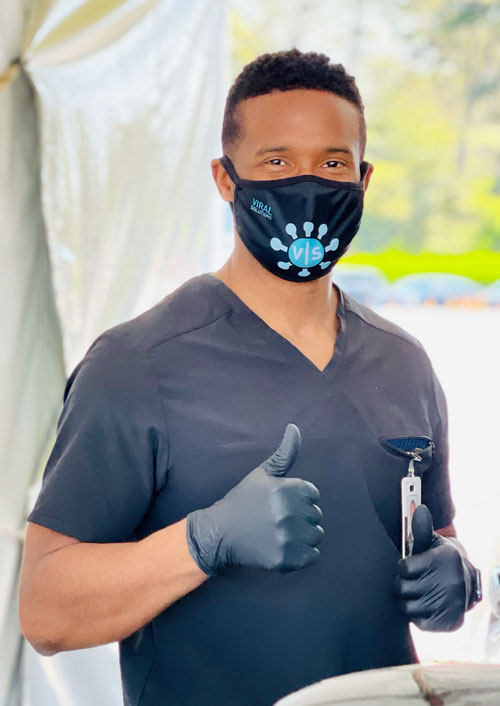 Lefkove and Sanders had worked together for about ten years in ERs, where they specialized in establishing more efficient processes and teams. In emergency situations, shaving seconds off of a process while maintaining quality can be the difference between life and death.
The greatest challenge of COVID-19 testing is also one of efficiency. How do you quickly and accurately test a population of millions, not just once but regularly, for the duration of a pandemic?
Viral Solutions had the answer, and by the time Lenz showed up at their first testing site, they already had a world-class operation, with ambitions to open several additional sites. Anyone could be tested, at anytime, quickly and accurately, with or without insurance, at no cost to them.
Lefkove and Sanders were solving the problem of providing efficient and accurate testing. However, they needed to get the word out in Atlanta so they could have greater impact on the Atlanta community. They needed to effectively market their sites and services so Atlantans could find them. They reached for Lenz, with 30 years of health care marketing success.
World-Class Marketing Experience from 30 Years of Practice
Lenz soon became an important member of the Viral Solutions team, with the backing of his fully integrated marketing group. He first created a brand consistent with a first-class healthcare operation and then launched a comprehensive marketing campaign.
"We helped them look as professional as they are, because we wanted the visual brand to match the experience," Lenz says. "Associate Creative Director Scott Sanders had the vision for the logo and brand, and he delivered excellence as he always does."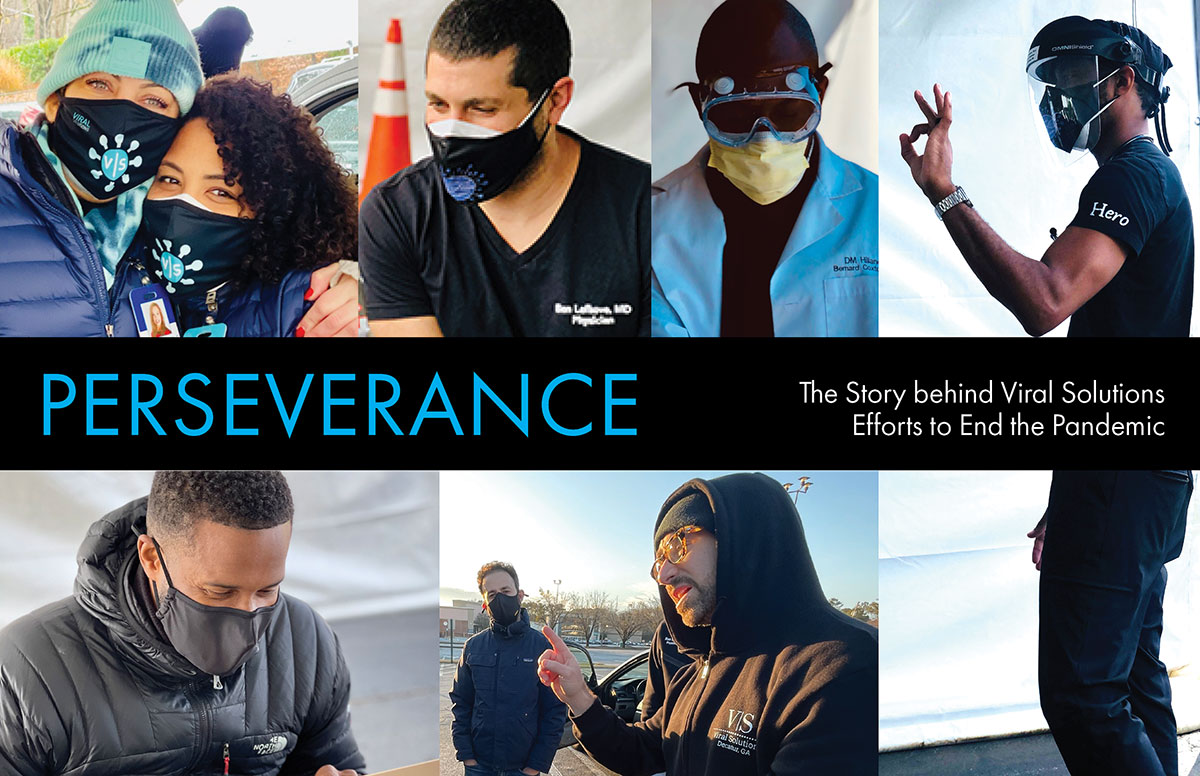 In short order, Viral Solutions had a professional logo and brand identity, 20 billboards around metro Atlanta, an optimized website with pre-registration capabilities, brand-consistent signage and flyers, press releases and media relations campaigns, video assets, and a radio advertising campaign running on WSB and KISS 104.
Lefkove and Sanders also became regular guest experts on two of Lenz Marketing's radio shows on WSB: The Weekly Check-Up and Lenz on Business.
Lenz has done everything from offering advice on Viral Solutions' business growth strategy to shooting the press conference when Viral Solutions announced they would provide rapid antigen testing for the entire Atlanta Public Schools system.
"It's full-on hustle-ASAP-startup-mode in the midst of a pandemic," says Lenz. "This past year has been challenging, rewarding, tragic, and inspiring – all at once. With the pandemic going on, I've been laser-focused on this effort."
Rapid Growth and an Expansion to Vaccines
In the first three months, Viral Solutions grew from one testing site to nine. For the Atlanta Public Schools, they're testing many thousands of students, teachers, and staff each week. And they've even expanded services to include a dedicated testing site for the families of Atlanta Public School students.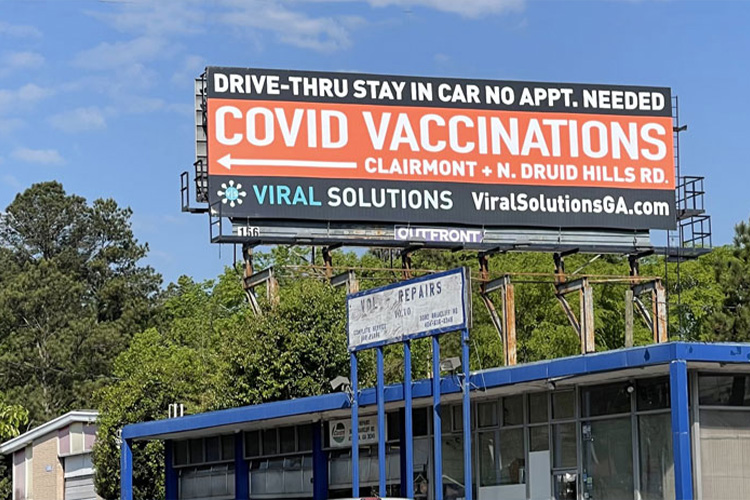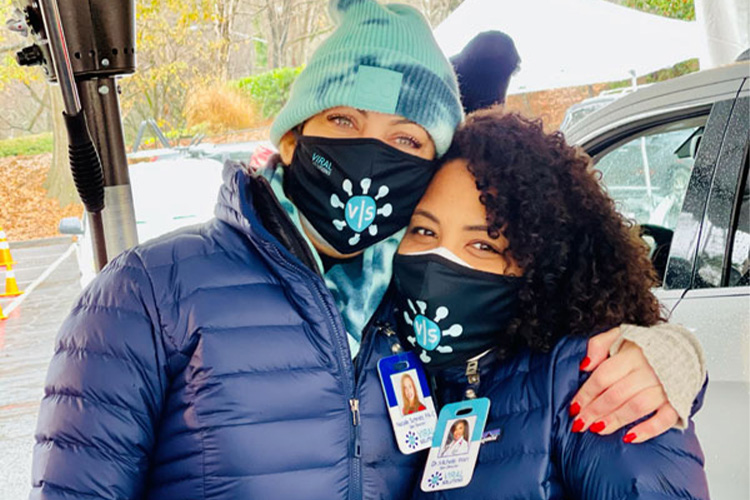 Viral Solutions has also partnered with Children's Healthcare of Atlanta, Grady Health Systems, Emory University, and RADx, the NIH's Rapid Acceleration of Diagnostics initiative to speed the development and deployment of COVID-19 testing while being assisted by Lenz, Inc.'s thirty years of deep marketing expertise and knowledge of the Atlanta healthcare community.
Viral Solutions has been administering the Moderna and Pfizer vaccinations for COVID-19, using the same drive-up, no-appointment model. The company is also planning ahead for a role in a post-pandemic world, a better future they hope to play a role in creating.
The Highlights of Helping More People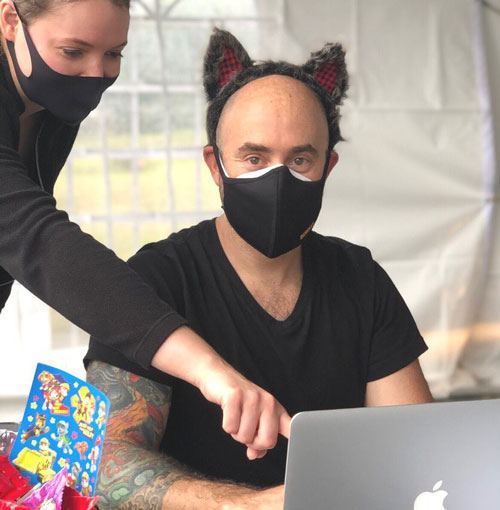 Lenz has appreciated the shared values held by Viral Solutions and Lenz Marketing: the caring commitment to the community, the insistence on quality, the urgency of bringing the right solution to those who need it most.
"Viral Solutions' focus on making a difference is Lenz's company mission," says Lenz. "I want to help them help others, and it's been so rewarding being a part of the solution to this pandemic. Now, I'm not the one doing the swabs outside in the oppressive heat, running the labs, or processing loads of data overnight, but I'm right there, elbow-to-elbow with the leaders, helping them help more people."
He adds, "I'm blessed because through Viral Solutions, I've been able to help a lot of people during a global pandemic. Not everybody gets to experience this and I treasure every day."
To learn more about Viral Solutions' on-demand, drive-through testing with no out-of-pocket expenses, visit ViralSolutionsGA.com. If your startup or healthcare organization needs a one-stop solution for branding and marketing from Atlanta's healthcare marketing experts, contact us and let us know how we can help.