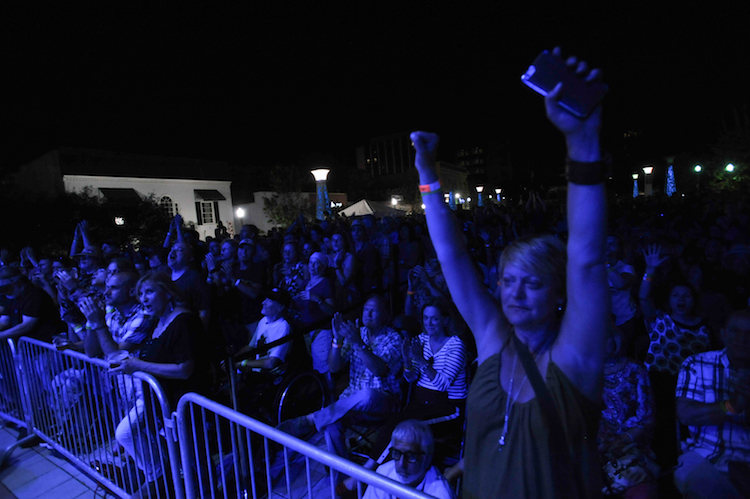 Lenz recently presented the 2017 Amplify Decatur Concert Series, helping raise $40,000 for its beneficiary Decatur Cooperative Ministry (DCM), a Decatur-based, nonprofit organization that works to prevent and alleviate poverty and homelessness in Decatur and DeKalb County.
Since the first Amplify event (formerly known as Poverty Is Real) in 2011, Amplify has helped to raise more than $150,000 for DCM. Each year, Lenz has served as the presenting sponsor. Amplify was founded by Lenz partner and Vice President of Marketing Mike Killeen, who remains an Amplify board member. Christine Mahin, Lenz Marketing's Accounts Supervisor, who helped plan and produce the inaugural Amplify Decatur Music Festival in 2016, served as festival director this year. Lenz President and CEO Richard J. Lenz serves as the Chair of the Amplify Advisory Board. And the entire Lenz team contributed to the marketing and production of the event.
On April 22, thousands gathered on the Downtown Decatur Square for the Amplify Decatur Musical Festival, the centerpiece of the concert series. Americana legend and three-time Grammy winner Lucinda Williams headlined the outdoor festival, which drew more than 2,000 guests. Also performing were Noah Gundersen, John Moreland, Harold Holloway & Company, Packway Handle Band, and Kristen Englenz & The Committed.
"Anyone who attended the event will recognize how special this community is, as hundreds of volunteers, sponsors, restaurants, beer vendors, citizens, city officials, police force, and artists came together to create a magical night," said Richard Lenz. "It takes a village to put on a great event like we experienced, and I can't thank them enough. I was lucky enough to spend time with Lucinda and she said she was impressed with the event and audience, which meant a lot."
Amplify Decatur also featured a four-night stand at historic Eddie's Attic, featuring Caroline Herring, Leopold & His Fiction, Scott Miller, Bob Sima, and Angie Keilhauer. On April 30, it culminated with the Bob Dylan vs. The Band cover night featuring seven local and regional acts.
Major sponsors included WABE 90.1 FM, The Pinewood, Lockman Homebuilding, The Leafmore Group, Decatur Package Store, Natalie Gregory, and Iris and Bruce Feinberg. Additional sponsors included AtlantaBen.com, Georgia Urology, Hall, Booth, Smith, First Baptist Decatur, Courtyard Marriott, Oakhurst Realty Partners, Plumb Works, Creative Loafing, Scott D. Miller M.D., McCurdy & Candler LLC, Private Bank of Decatur, Verisol Partners, Travis Grubb Residential, Decatur Rotary Club, North Decatur Methodist Church, 97.1 The River, Brick Store Pub, Decatur Presbyterian Church, Decatur CD, Oakhurst Baptist Church, Dynamo Swim Club, Holy Trinity Parish, The Arlo, and New Chance Signs.
Lenz is extremely proud to have worked alongside the Amplify My Community team to make this event a reality.
Scroll down to view some of the photos from this amazing event!