By Mike Killeen
Lucinda Williams recently told Rolling Stone magazine of an early meeting with a Columbia Records executive. "He said, 'You have a lot of potential, but you need to work on your songs. None of them have bridges.' After the meeting, I got out my Bob Dylan and Neil Young albums. I said, 'These songs don't have bridges either. So f*#@ that guy.'"
Williams has always recognized the signal from the noise That's one reason she's earned unbridled adulation from fans and artists alike for more than 30 years.
Many were introduced to Lucinda Williams via Car Wheels on a Gravel Road, the 1998 album that earned a Grammy Award for Best Contemporary Folk Album and universal praise from music critics the worldwide (Car Wheels landed at number 305 on Rolling Stone's list of the 500 best albums of all time).
But by then, those in the know already recognized Williams as one her generation's most vital artists and a leader of the "alt-country" movement she helped create, thanks to her eponymous 1988 breakthrough album and 1992's Sweet Old World. By the time Essence was released in 2001, Time magazine also had Williams in its sites, calling her "America's best songwriter" the following year.
Part of Williams's appeal is how she seamlessly blends the honored traditions of folk, country, and blues while introducing a sensibility that feels entirely her own. Perhaps this can be traced to her upbringing. Her father was Miller Williams, a literature professor and poet who read his poem "Of History and Hope" – containing the line "We know the sound of all the sounds we brought" – at Bill Clinton's 1997 inauguration. Lucinda Williams followed her dad's teaching job across the Southeast, including to Louisiana, Mississippi, Arkansas, and Georgia. Later, under her own volition, she settled first in New Orleans, then Austin, then New York City, and finally Los Angeles, where her passion for music became a formal pursuit.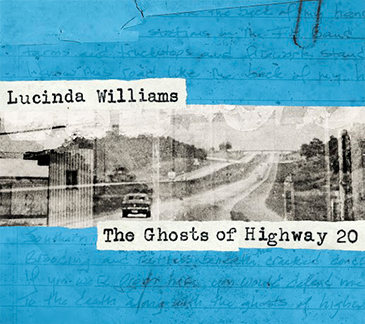 Today, Williams says she is writing and singing better than she ever has, and it's hard to argue. She is surely more prolific. Once known for her measured perfectionism (it took 11 years for her to release the consecutive albums, Lucinda Williams, Sweet Old World, and Car Wheels on a Gravel Road), Williams's most recent release, Ghosts of Highway 20, represented her second double album in a span of just 18 months, following 2014's Down Where the Spirit Meets the Bone. Both belong to Williams's newly formed record label, Highway 20 Records, perhaps offering a bit of symmetry for an artist who has always been truly independent.
Lucinda Williams headlines the 2017 Amplify Decatur Music Festival on Saturday, April 22. Lucinda and her band will go on around 9:15 p.m. Visit AmplifyDecatur.org for tickets and more information.