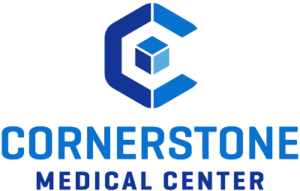 Lenz recently helped the former Hutcheson Medical Center in Fort Oglethorpe, Georgia re-open as Cornerstone Medical Center. Lenz partnered with the hospital's leadership, employees, and community to develop the new name, logo, and visual identity.
Cornerstone Medical Center CEO Jessica Long recently explained the inspiration for the hospital name. "The name comes from the Cornerstone Club, a group of community laborers who made weekly financial contributions from their individual paychecks to expand the Post Hospital and create the Medical Center we know today," she said. "We feel the name honors the dedication of this community and exemplifies a fresh start and new beginning."
Cornerstone Medical Center is owned by ApolloMD. The hospital provides emergency medicine, radiology, laboratory services, and a pharmacy.