Lenz has been a proud partner of The Atlanta Science Festival for years, helping them Bring People Together Through the Wonder of Science across Georgia. Recently, ASF decided to expand the festival's impact beyond its two-week footprint in March in order to become a year-round organization, offering events, classes, and programming celebrating Science, Technology, Engineering, and Math (STEM). As part of this expansion, the ASF leadership decided to rebrand as Science ATL, the new parent organization of The Atlanta Science Festival.
Lenz helped launch the rebrand with a new presence on the Science ATL website, scienceatl.org collaborated closely with our client to make it more engaging for new and returning science fans. With an eye for design and engaging imagery (including visual shout-outs to our spacesuit mascot ALEX), we enhanced the user experience and improved access to news and events about Science ATL programming including:
The Science Scene Calendar:

Lenz updated this important calendar of local science-themed events to better connect science enthusiasts, both young and old, across the region.

Get Involved – Volunteer:

Lenz simplified the volunteer page to make it easier for science fans to lend their talents to support the festival and annual programming.
Here's the new ScienceATL.org: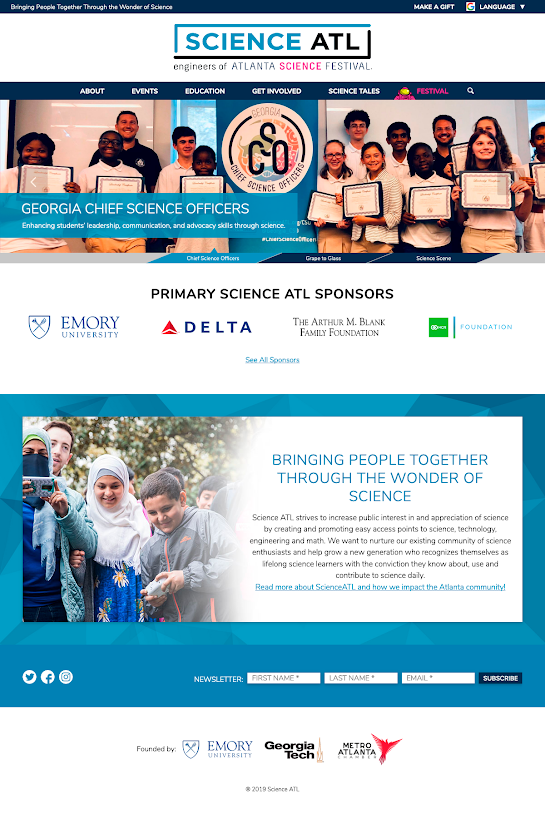 Lenz remains committed to STEM education, programming, and celebration of science in our community. We are honored to help our clients complete this brand transition to help them accomplish their goal to bring people together through the wonders of science.
If your brand or company needs a new website, click here to get in contact with Lenz Marketing today.