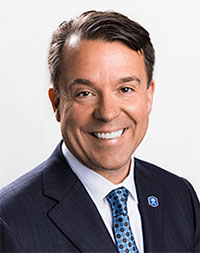 Not all physical therapists find themselves equally at home in the board room and the locker room. Strategies for both reside in the playbook belonging to Dr. Dale Yake, CEO and founder of PT Solutions Physical Therapy.
In fact, Yake's journey toward physical therapy and entrepreneurship began in the late 1980s while playing football at Allegheny College in western Pennsylvania. It all started with a crushing knee injury during gameplay.
"My own rehab opened my eyes to how powerful physical therapy was," Yake told the Atlanta Business Chronicle in an interview published last February.
This led to an interest in the craft of PT and rehabilitation. During his collegiate and post-graduate years, Yake worked in various physical therapy capacities, from treating high school athletes to serving as a trainer for the Pittsburgh Pirates.
After receiving a master's degree in physical therapy from the University of Alabama at Birmingham and a doctorate in physical therapy from Rocky Mountain University in Provo, Utah, Yake huddled further into the world of professional sports.
For the next decade and a half, Yake worked with the St. Louis Cardinals, Tampa Bay Lighting, Miami Dolphins, LPGA golfers, and a laundry list of other teams, individual athletes, and sports organizations.
In 2003, Yake felt called to start PT Solutions, a physical therapy practice serving patients from all walks of life. Business began to blossom quickly.
PT Solutions has grown by 166 percent over the past three years, moving up this year to No. 2,203 in Inc. magazine's 5000, as one of the country's fastest-growing private companies. Today the practice boasts locations in 12 states, including more than 40 in the company's home state of Georgia.
While Yake's playbook continues to evolve, the athlete inside him refuses to take the bench. An avid runner, cyclist, and swimmer, Yake has competed in more than six dozen triathlons, and four Ironman endurance races. And he channels his expertise and insider knowledge as a regular contributor to The Sports Insider with Dan Kamal, an acclaimed weekly radio show on 92.9 FM, The Game, the most listened to sportstalk station in Atlanta and the Southeast.
"Whether it's in business or on the playing field, the key ingredients to success remain the same," Yake said. "Growth, passion, and resilience are at the top of the list."