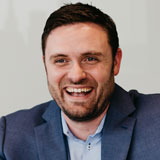 Chris Burns, founder and principal of Dynamic Money, is passionate about helping his clients build a strong financial plan flexible enough to be effective for all of life – not just the easy parts. Chris knows about life's unpredictability firsthand. In fact, facing an unexpected crisis was what led him to a career in financial planning.
Burns was employed as a youth pastor when his wife became seriously ill and unable to work. As medical bills mounted the couple and their children were forced to move in with his in-laws just to make ends meet. Their financial position began to feel hopeless.
"I'll never forget we had a phone call with a nonprofit that did debt counseling," Burns recalls. "I gave the overview of my income and our debt, and the woman who worked there advised, 'You should just declare bankruptcy. You don't have any way out here.' Though we didn't end up declaring bankruptcy, that moment was an absolute low point."
Chris knew his family needed a dramatic change. A member at his church offered him a job selling life insurance at a small financial services company. Though it was 100 percent commission, it was an opportunity for training and a way out. So without any real idea what he was getting into he accepted the offer and immersed himself in learning about the world of finance.
Though he was finding success in insurance he began to fall in love with invest-ing and overall retirement planning so he left his first company and moved to an independent firm that advertised as "fee-based retirement planners." Though he learned a lot there, Burns became aware that the majority of that company's revenues were still commission-based. He became disillusioned with the idea of helping clients make their best plan for the future while also receiving pressure to sell products that generated large, upfront commissions for that company's bottom line. The incentives just didn't line up. That sparked an interest to venture out on his own.
"I wanted to build a truly fee-only company," Burns says. "Only seven percent of financial planning firms in the country are fee-only (meaning they accept no commissions), and the vast majority of those only work with the ultra-wealthy." Burns' dream was to create a financial planning firm offering objective advice – not clouded by commissions – but available to everyone, regardless of wealth.
"I wanted to offer my services to everyone from school teachers to executives, to offer them dignity and top-notch advice regardless of their income or assets. That became my passion – to help others and provide the same level of service to everyone who walked through our door. Because that's what I needed when I was a youth pastor covered in debt and looking for solid advice. I know the crushing anxiety that finances can bring (regardless of someone's wealth), and I wanted to face that head-on."
The result is Dynamic Money. Chris and his team look at a client's entire situation – their taxes, estate planning, insurance, investments, and income planning – and figure out how all of those can work together to help them reach their dreams and the retirement they want. "The idea is to create a plan that works in the real world – because life will always bring the unexpected, so we build plans that are prepared for that."
In the midst of his firm's growth, Burns spends a great deal of time creating new content. He hosts Dynamic Money, which airs every Sunday morning on WSB Radio and is available on all podcast platforms, provides "The Dynamic Money Update" daily on WSB Radio as well as other stations in Atlanta, and is a frequent guest on CNN. Burns appears regularly on Lenz-owned radio properties, Lenz on Business, The Sports Insider, and The Weekly Check-Up. He has also written for multiple publications, sends out a daily newsletter, and is a sought after speaker on issues of personal finance and planning. He's currently working on his first book and developing a new audio and video pod-cast featuring guests sharing their personal financial experiences.
"It all goes back to that core message of helping folks take a tangible step forward," Burns says, "giving them objective advice that they can trust without the baggage that the world of commissions introduces."
Learn more at DynamicMoney.com.
https://www.lenzmarketing.com/wp-content/uploads/2017/05/logo-1.png
0
0
Lenz
https://www.lenzmarketing.com/wp-content/uploads/2017/05/logo-1.png
Lenz
2019-08-28 14:41:48
2019-09-12 21:13:19
You Should Know: Chris Burns of Dynamic Money