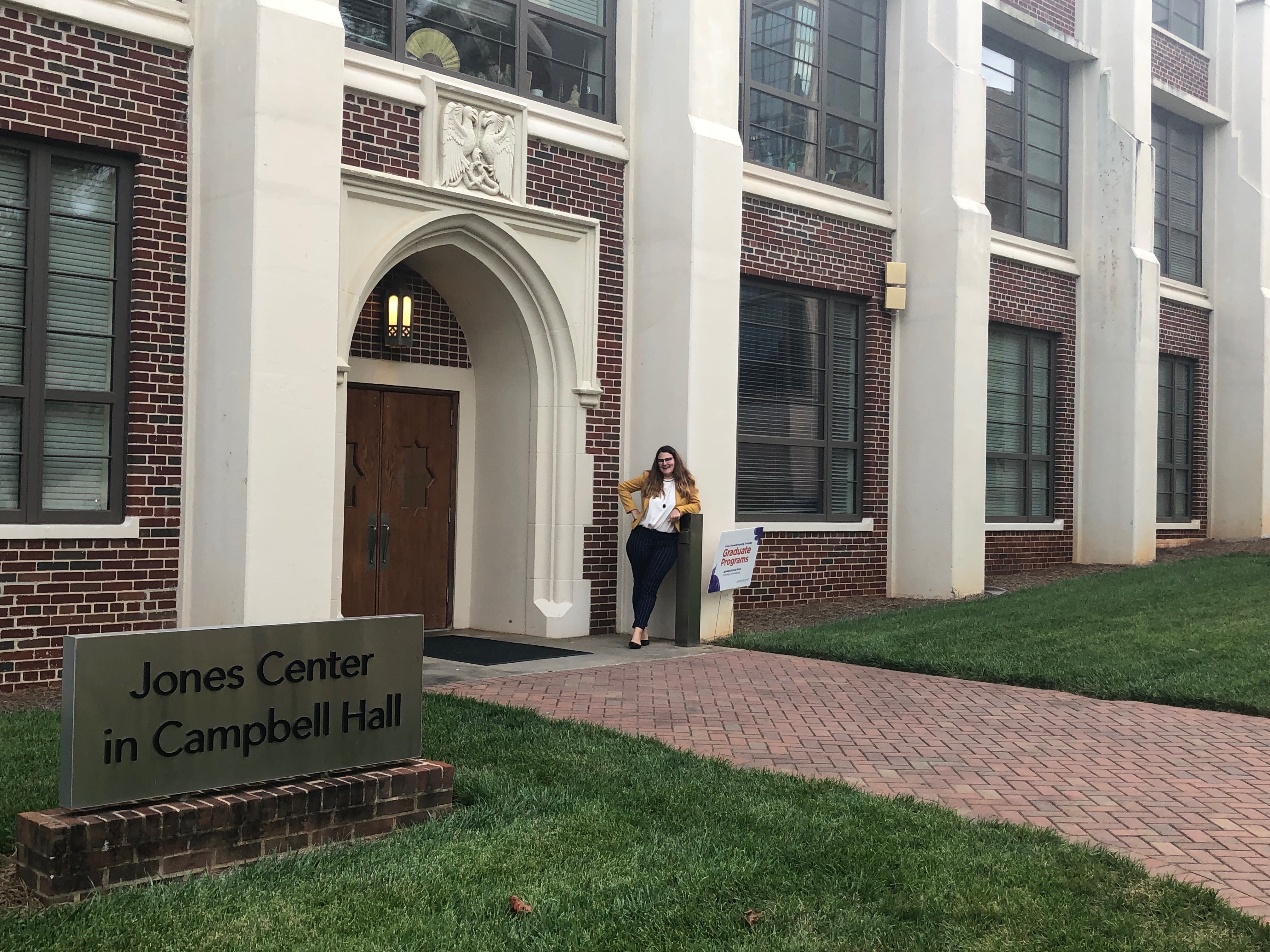 Carey Blankenship, Media Coordinator at Lenz Marketing, recently earned her master's degree in Writing and Digital Communications at Agnes Scott. To celebrate her accomplishment, we asked her several questions to understand how this degree has impacted her and her work with Lenz.
What inspired you to pursue your master's degree in Digital Writing and Communication?
Continued education has always been one of the biggest pillars of my life and career. I love learning, and I love going to school. In fact, I don't think I'll ever stop trying to improve my skills or pick up new hobbies.
As for why I decided to pursue this particular program, I received my bachelor's degree in English and Creative Writing, so I didn't take any marketing courses in my undergraduate education. Thanks to my work experience at Lenz I had a great understanding, but I wanted to study and research marketing further alongside some of the best and brightest in the Atlanta community.
What I loved most about Agnes Scott's program was its blend of multiple aspects of marketing, from social media to SEO, with the creative, such as writing and video creation. I knew that diverse of a class schedule would help make me a well-rounded marketer.
With this new degree under your belt, which of these skills you've gained are you most excited to apply to your role at Lenz?
Taking courses in coding, website building, and digital storytelling have helped my overall understanding of marketing. What I learned in those classes have made my perspective and thinking on my day-to-day tasks more creative and successful.
In addition, I learned a lot about project and time management through my heavy workload for the past year. My experience with stress management during this degree will make me a more positive, confident, and creative employee, no matter what comes my way.
Did the program introduce to you any aspects of digital writing and communication that surprised you? If so, could you explain?
I loved learning communication theories and how those translate into marketing best practices. As I mentioned before, I didn't have any formal education with communication and marketing prior to this master's degree, so there was a lot for me to learn when it came to theories and the fundamentals of marketing in general. Through Agnes, I was able to take what I learned about theories and apply it to everyday life.
How do you expect the field of digital writing and communication to evolve over the next 10 years?
One of the most exciting and challenging aspects of working in marketing is that the core principles are constantly evolving and changing. That's why continued education is so vital in this career. If you aren't keeping up with the latest trends, your marketing techniques will be outdated and less successful.
As for the next 10 years, I expect voice marketing to make a bigger impact than it already is now. That means Alexa, Google Home, and other smart devices will be a minefield for marketers to explore and reach their consumers.
In addition, new technologies are continuing to develop, therefore the way we consume digital content continues to evolve. I expect even more technology to be released that will unlock new kinds of digital communication.
For those interested in learning more about digital writing and communication, and creating digital content in general, what tips and tricks would you like to pass along?
Explore all elements of marketing and digital content. There are so many niches available for you to pick and thrive in. I never knew about search engine optimization until I heard about it during some online Lynda courses, and now it's my favorite part of my job.
Also have personal goals laid out for learning and developing your skills. Maybe you do an online free course once a month, or maybe you set a deadline to get back to school and get your master's. It may seem impossible or overwhelming, but, if you make room for it in your calendar, you can make it happen.
If you would like to work directly with Carey and her blog writing or SEO skills, click here to contact Lenz today.
https://www.lenzmarketing.com/wp-content/uploads/2017/05/logo-1.png
0
0
Lenz
https://www.lenzmarketing.com/wp-content/uploads/2017/05/logo-1.png
Lenz
2019-08-15 16:45:50
2019-08-15 16:45:50
Lenz Marketing Media Coordinator, Carey Blankenship, Earns Master's Degree in Writing and Digital Communications